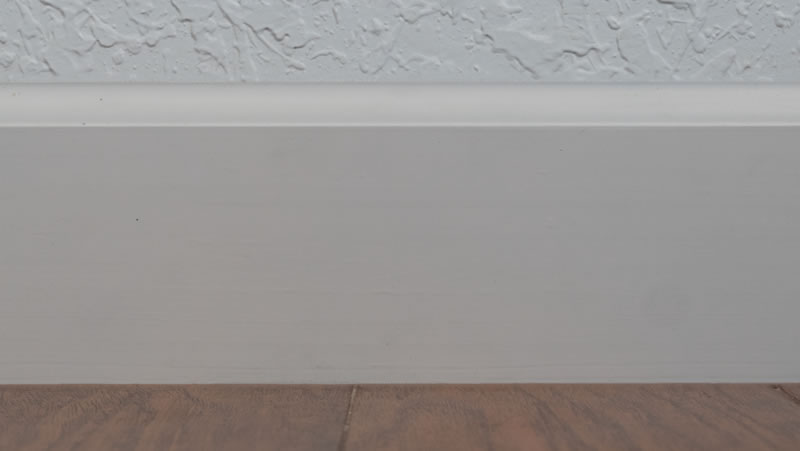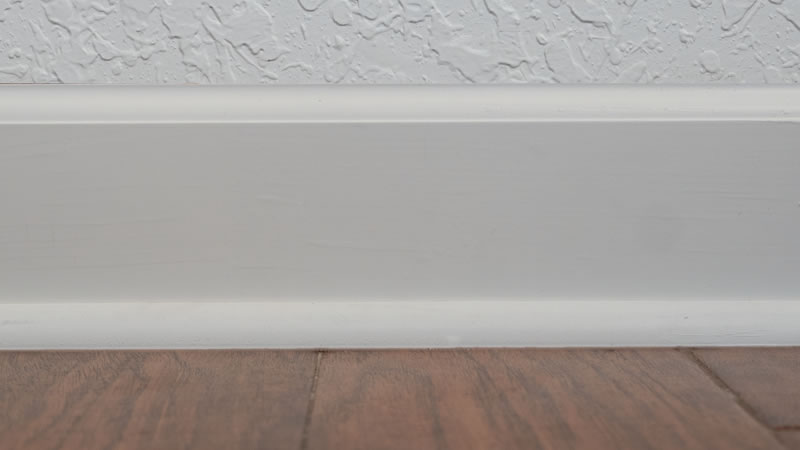 This is 4.25" baseboard before and after installation of shoe molding.
Shoe Molding Installation
Shoe molding, also known as "base shoe," is a small, thin strip of decorative molding. Designed to cover gaps that might exist between the bottom of your baseboard trim and the floor,  it adds a nice decorative touch to your baseboard for an aesthetically pleasing finished look.
The practice of adding shoe molding to baseboard trim began in Europe and the United States during the Victorian era of the late 1800s.  It was called "shoe molding" because it's located at the same level as, you guessed it, your shoes! It became very popular because it not only did it look good, but it was also very effective at sealing out dirt and insects. https://www.bobvila.com/articles/shoe-molding/
Nowadays, the main purpose of baseboard trim with shoe molding is to hide the transition between the bottom of your wall, which can often present with a rough unfinished edge, and your tile, hardwood, or Luxury Vinyl Plank (LVP) flooring. While a properly installed baseboard can usually cover this gap effectively, shoe molding finishes the look and effectively hides the inconsistencies in the flooring height.
Just Trim Florida is a trim and molding contractor headquartered in Ocala, Florida, and serves Marion, Sumter, and Lake Counties.  We specialize in the installation of shoe molding in a variety of sizes and styles to accent your baseboard trim in any room of your home or building.
Just Trim Florida Specializes In Shoe Molding Installation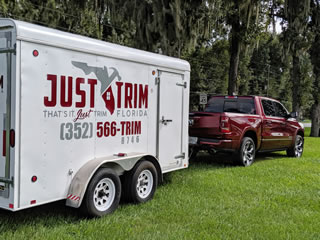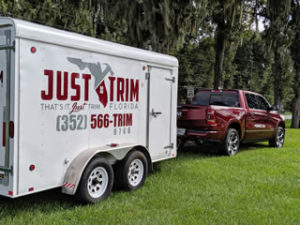 When you choose to hire Just Trim Florida to install the shoe molding in your home or building you're partnering with a small team of experienced craftsman with over 40 years of combined experience.  We keep a clean work environment, we offer seamless scheduling, and we are excellent communicators.
As craftsman, we are professional, clean-cut, drug and alcohol free, we don't smoke, and we're always friendly and more than happy to answer your questions.  We're very proud of the work we do.  Our EXPERT approach to a specific trade means you get the very best.
We are "The MVP of Trim.  When you need a uniform, gorgeous, clean, consistent look in your home or building, you call Just Trim Florida.  Our quality and tolerances are unmatched; with our communication, material sourcing, and with our sole focus of trim installation we set the Standard.
If you'd like to schedule an in-home consultation to discuss the installation of baseboard trim with shoe molding in your home or building please give us a call at (352) 566-TRIM (8746) or fill out our online form and we'll get right back to you.